When is the last time you looked at a countertop oven, or more commonly known as a toaster oven?
If you're like me, it always seemed to be faster and easier to use the microwave. But I really wanted a good countertop oven!
I've had toaster ovens in the past, but they were usually too small for a lot of foods I wanted to cook in them, so I didn't use them.
But, if we're being honest here, I also didn't like the fact that they looked cheap on my counter.
Then I found exactly what I had been wanting–the Oster French Door Countertop Oven. Let me tell you about the oven in their line that I think you'll love.
Features Of A Great French Door Countertop Oven
A great countertop oven has all the features you need to be worth taking up precious space in your kitchen. So here's what I was looking for:
~   French Door Design–I absolutely fell in love with the look of a french door oven when I found the perfect GE Cafe French Door Wall Oven! Not only is it beautiful, I love the way it functions. So a french door design in my countertop oven was big on my list.
~   Size–I want my oven to be large enough to cook a pizza or make a meal for my husband and I. But, it's going to be sitting on my kitchen counter, so I want it to be designed well to not take up any more of the prime real estate on my counter than it has to.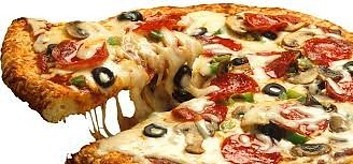 ~   Wattage–The wattage of an oven determines how fast it will heat up. I want one that will heat up fairly quickly, but not have a large energy consumption.
~   Clear Oven Controls–I don't want complicated controls. If I have to use the manual to learn how to use the controls, that's fine. But it shouldn't have to be taped to the wall next to the oven for reference every time I cook with it!
~   Cooking Functions–The oven should have all the basic cooking modes like bake, broil, and keep warm. Any other cooking functions are a bonus, especially if they give more options for 1-touch cooking.
~   Convection Baking–If you love to bake like I do, you'll appreciate having an oven with a convection baking feature. A fan will distribute the air through the oven and decrease baking times. For me, it's a must-have!
~   Double Racks–Having an oven that is high enough to have 2 well-spaced cooking racks is important. For things like pizza, being able to cook 2 at a time can mean the difference between using my countertop oven or having to heat up my large oven.
~   Automatic Shut Off–This is essential for me! If I'm in the garden or running our 2 dogs in the yard, I want to know that the oven will shut off automatically.
Once I had my list of what I needed for my countertop oven and looked at several models on the market, I knew the Oster French Door Countertop Oven was the one for me!
Why Oster? They have it all!
The Oster line of french door countertop ovens are just beautiful and add a classic, modern touch to any kitchen. The stainless steel Oster digital model complements any countertop and decor.
But it's not just the looks that convinced me this was my #1 choice–any great oven performs as wonderful as it looks or it's not for me! It was the features and quality that put it over the top.
Here are the features you're going to find if you purchase an Oster french door countertop oven: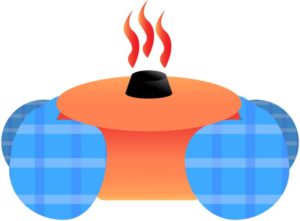 ~ The Size–The exterior dimensions of this oven are 22″W 19.5″D 13″H with the back of the oven rounded out. This means I can cook 2 16″ pizzas–my husband will be very happy!
In reading the reviews, I learned that it's best to leave a little room on both sides of the oven for the doors to swing open all the way.
They're spring-loaded for 1 hand operation, but you need to open them fully to be sure they'll stay open while you are taking food in and out.
Even with the extra space, this Oster oven fits nicely on a countertop without taking up too much room.
~ Wattage–The average wattage for a countertop oven is 1200 to 1600, and this unit comes in at 1500 watts. That's more than enough to provide the heat required to get to even the hottest temperatures without tripping the breaker if you want to use other kitchen appliances at the same time!
~ Easy To Use Oven Controls–The oven controls and display of this oven are clear and designed to be easy to use. The touch controls took a little bit more pressure than I would've expected at first, but that's just a matter of getting used to it.
For me, it's like getting used to my cell phone after putting a tempered glass shield on top. (I'm famous in my family for cracking the glass on my cell phone!) It takes a day or so to get in the habit of touching it just a little harder than before.
~ Multiple Cooking Functions–I wanted bake, broil, and keep warm, and Oster gives you those plus a lot more! You can, of course, toast, but there's also 1-touch buttons for Pizza, Defrost, Dehydrate, and Convection.
The multi-functional cooking options truly make this oven an appliance that you'll use more than you thought you would. I had no idea that I could use it as a dehydrator–anything I can buy that does many things in the kitchen goes right to the top of my list!
~ Turbo Convection Baking–I've been hooked on convection baking since we bought our current home 8 years ago. There was an old convection/microwave model that I used the heck out of! But it was really big and noisy and needed to be replaced.
Once I saw that this beautiful oven actually had a great quality convection cooking mode, I knew I'd found the replacement I needed! The fan distributes the air evenly through the oven and is quieter than I thought it would be.
I can definitely recommend this Oster  oven if you're looking to do convenient convection baking.
~ Double Racks–Double racks mean double the baking capacity for foods like pizza or cookies, and it was on my must have list. This oven provides them!
~ Automatic Shut Off–While other models I've seen have a 60-minute automatic shut off, this model will let you set it up to 90 minutes, which works really well for many of the things I cook.
If you need a longer cooking time than 90 minutes, you can just adjust for more time before the timer shuts it off–super convenient!
If you look at all the features that Oster has put into their french door countertop DDG model, you'll see that it's definitely a quality oven you need to look at!
Ratings and Reviews
The average rating on Oster and on Amazon for the Oster XL Digital French Door Oven model is 4.1 out of 5. People who've purchased this oven just love it!
Here are what some of the Oster customers have said after using their oven:
"Purchased this oven about a month ago to replace my 25+ year old Farberware extra large oven. Oster, If I had been the one who designed this French Door Oven I'd be shouting it from the rooftops! This is genius! The French Doors are a boon to those of us who are of short stature and are tired of burning our arms reaching across a hot oven door to retrieve our baked items to serve. This oven is easy to use, easy to clean and easy on the eyes."
"Love, love, love this oven!!
"I absolutely can't say enough about this oven! I have had this oven for several weeks and it has become my go-to appliance!"
"Beautiful, Compact AND so efficient!"
"This oven is amazing, I've used it to make all sort of dishes and everything came out perfectly."
I looked into the reviews that have given this oven a negative rating and want to address them.
Some of them deal with the fact that you need to be sure and open the doors all the way to prevent them accidentally closing as you take pans in and out. Many others have stated that there is no problem with this if you have adequate space around the oven and open the doors fully.
Others don't like the fact that the oven was designed to have a very small gap between the doors for venting. But all ovens are designed to vent, and it appears that most of the complaints revolve around perceived heat loss. This is unavoidable for any oven you purchase.
Overall, the Oster French Door Oven is a quality, beautiful appliance that I can wholeheartedly recommend!
You'll Love Your Oster French Door Countertop Oven!
So if you're looking for a countertop oven that will perform multiple cooking functions in your kitchen and look absolutely fantastic doing it, check out this Oster French Door Oven. It makes a perfect gift, and I think you'll love it as much as I do!
Do you use a countertop oven? What are your favorite things to cook or bake in it? I'd love to hear about them in the comments below!
Updated October 17, 2020