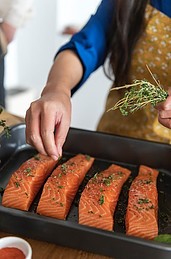 If you're like me, there's a gourmet cook inside just waiting to get out!  But let's face it, by the time you work all day, clean up the house, and run kids around, there's a lot of days that it's just easier to pick up the phone and order a pizza for dinner.
So when you do have time to get in the kitchen and make a home cooked meal, don't you deserve to enjoy cooking and baking for your family?  Yes, you do!
The best way to enjoy being in the kitchen is by having appliances to use that are functional and beautiful at the same time.
You're not going to find an oven that gives you the best of both and be professional quality unless you take a look at a Viking French Door Oven–let's check it out!
Viking French Door Oven Quality
The Viking VSOF730SS 7 Series 30″ French Door Wall Oven is impressive from the first look.  The design is sleek and modern and will fit in beautifully with any style kitchen.
At 4.7 cu. ft. in size, it's a large capacity oven that will fit even the largest meals you want to cook.
The french doors open easily with one hand since whichever handle you use, both doors open simultaneously.
As much as I love the look of a french door oven, what really matters is the fact that I don't have to reach over a large hot oven door!
This style is a big trend for 2019, and I think the way the french doors function, it's going to stay around for a very long time.
Cooking And Baking Features You'll Love!
The functions of the Viking French Door Oven are enough to take the chore out of cooking and baking.  Here are the main features that stand out with this oven:
~   Large Capacity–The largest Thanksgiving turkey will fit perfectly!
~   3 Oven Racks–I love cookies, but hate baking them because it takes forever to make a few dozen cookies.  With 3 racks, I can bake my grandson's favorite cookies all in one batch!
~   Convection System–This oven features the TruConvec™ convection cook and has the exclusive Vari-Speed Dual Flow™ Convection System.  It has an 8 1/2″ two speed fan, which is the largest in the industry, and it works bi-directionally for maximum air flow.  What does that mean?  Excellent cooking results!
Here are the cooking modes that this oven can do with this system:
Convection Bake
Convection Roast
Convection Broil
TruConvec™ Convection Cook
Convection Dehydrate
Convection Defrost
~   Fast Preheating–With their Rapid Ready™ Preheat, this oven preheats super fast.  This feature is especially handy when you've come home after a long day and don't want to wait forever to get supper in the oven!
~   10 Pass Dual Bake Element–Not only does this provide excellent temperature control, but the elements are concealed, which makes clean up easier.
~   Superior Broiling–The broiler is an extra-large Gourmet-Glo™ Glass Enclosed Infrared Broiler.  It provides maximum coverage for superior performance.  In addition to the Convection Broil mentioned above, there is Hi Broil, Medium Broil, and Lo Broil!
~   Steam Cleaning–If you're the same type of cook that I am (messy), the steam clean function is one of the best features!  It only takes 20 minutes and is designed for light to medium cleaning.
~   Meat Probe–When using the meat probe, the timer goes off when the meat reaches the desired temperature and the oven shuts off.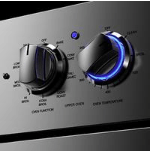 ~   Black Chrome Heavy Duty Knobs–These knobs are quality and look great, designed to last a long time.  The CoolLit™ LED Lights are accented in Viking blue when the knob is turned on.
~   Delay Cooking–This is a feature that I use a lot.  I love to take a frozen roast, season it up, put baby carrots and red potatoes around it and sliced onions on top.
Then cover it tightly with aluminum foil and put it in the oven with the delayed cooking function.  I can head into town to work for a few hours and by the time I get home, one of my husband's favorite dinners is ready!
All of the functions and features of the Viking French Door Oven make this a quality appliance that works every bit as terrific as it looks!
Colors To Match Any Decor
The days when your appliance color choices were black, white, and stainless steel are over!  This beautiful oven comes in 7 colors, so you'll be able to find one that fits with any kitchen style and decor out there.  Here are the colors you can choose from:
Apple Red (My favorite!)
Black
Burgundy
Cobalt Blue
Graphite Gray
Stainless Steel
White
Every one of these colors are classic, modern, and stylish.  If you want to set your kitchen apart, take a look at all the options Viking has to offer!

Viking Double Wall Oven Is Even Better!
What could be better than this Viking French Door Oven?  Their double oven version–Viking VDOF730SS!
This 9.4 cu. ft. total capacity oven combines the features of the single oven with a conventional door oven below it.  Never again will you have to worry that you won't have enough oven space for even the biggest family gatherings!
The reviews on AppliancesConnection.com for this oven are 5 out of 5 stars, and here is what some of them said about Viking French Door Double Oven:
**Replace this with single wall oven. Working great, I love both ovens it has more room and the temperature is just perfect for all my recipes. Beautiful upgrade.**
**This was the first french door oven I saw, and the fact that it came with a regular oven on the bottom made me go for it.**
**Takes very little time for preheat, and cooks very evenly.**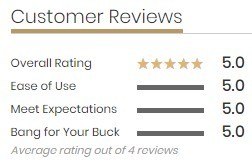 ==>==>  See our #1 recommended French Door Countertop Oven!  <==<==
The Gourmet Cook In You Will Love The Viking French Door Oven
If you're looking for one of the newest trends that's here to stay for your next oven, I recommend looking at a french door oven.  You can't beat it for design, looks, and function, and Viking has two of the best models on the market today!


What do you think of the french door design?  Will you consider it for your next oven?  I'd love to hear your opinions in the comments below!